Last Friday, I welcomed a new furbaby into my home. Say hello to Miu Miu… my 3 year-old Blue Russian Tuxedo adopted from Texas Pawprints Rescue. I'm going to try to wait until I move in September to buy her a bed, but I've already been hunting for a new one for my haute couture cutie. If that makes me a crazy cat lady, then bring it! Check out these amazing pet bed options on Etsy. Which one is your favorite?
1. ModPet Modern Pet Bed Chaise Lounge
This chaise lounge by ModPet is the current front-runner. It'll fit in with house decor nicely and is a good price point at $145. Available on Etsy.
2. Vurv Design Studio Dog Pod Lounge
The curved veneer tube would serve as sculpture as well as a pet bed. Truly beautiful but much more expensive at $598. Available on Etsy.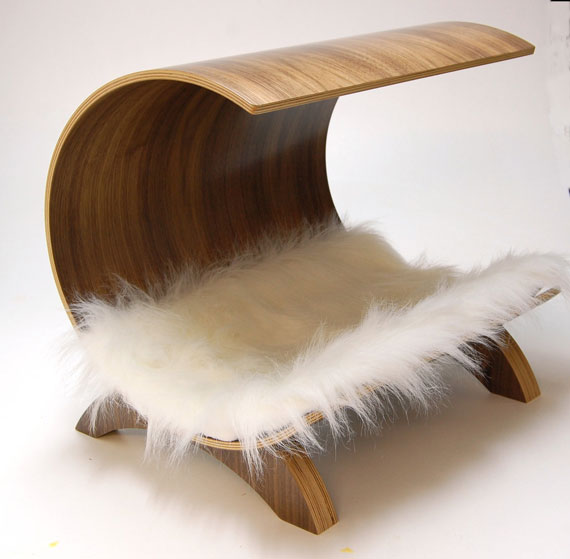 3. Missiejames The Jewel Dog Bed
I have a serious lucite obession , so this clear octagonal pet bed makes me happy just to gaze upon it. At $448, I would have to save a while longer to afford this beauty. Available on Etsy.
4. CANOPYstudio The Canopy Lounge
If you can use this groovy lounge chair as occasional seating as well as a pet bed, it would make the $550 price easier to justify. Available on Etsy.
5. ModPet Modern Pet Bed Daybed and Lounger
I'm not sure my cat will like the feel of pleather, but this modern pet bed would put my people-furniture to shame at $155. Available on Etsy.
6. modernmews Modern Cat House
This mod cat house would be perfect for a shy kitty, but the two acrylic side panels are just attached with magnets for easy removal for not-so-shy furbabies. Says it could also function as a low side table. Very cool custom option at $450. Available on Etsy.
7. AtomicAttic Upcycled Apple Computer Pet Bed iMac
My geeky side is in love with this pet bed idea. An old iMac with the guts scooped out and replaced with a fluffy kitty bed! Great price too at $129. Available on Etsy.
Which one is your favorite?