I am a movie wimp. I play a game with the movie screen to see if I can look away before blood splatters and bodies explode. Last Friday, I pulled up my big girl panties and attended the screening of Arnold Schwarzenegger's new shoot-everyone-who-gets-in-the-way movie called 'The Last Stand' (January 18, 2013).
In 'The Last Stand,' Schwarzenegger returns to the big screen as Sheriff Ray Owens, a lawman determined to protect his town from a ruthless group of mercenaries led by a notorious drug kingpin. Forest Whitaker (Agent John Bannister) stars as the Fed pursuing the criminals as they race towards Sheriff Owen's sleepy border town. Comic relief is provided courtesy of Sheriff deputies played by Johnny Knoxville (Lewis Dinkum) and Luis Guzmán (Mike Figuerola).
The haunted, protective Sheriff Ray Owens is my favorite Schwarzenegger performance to date. I was cheering for the Sheriff and wanted to give him a huge high-five after the final showdown… after he washed the blood off his hands of course. Thankfully, the script acknowledges that Schwarzenegger is aging, so fight scenes feature shows of strength (and massive firepower) instead of lightning fast ninja moves.
Action is insanely fast-paced and full of crazy car chases. The level of violence is too brutal for this delicate flower, but I was hidden behind my bladder-buster Coke for most of the bloody scenes. This movie is not for kids or the faint of heart.
The strong supporting cast keeps the predictable plot from feeling stale, and laughs are peppered throughout the film to help offset the extreme violence. As a small odd distraction, Rodrigo Santoro and Peter Stormare struggled to speak with a consistent Southern accent. They made me grateful that Schwarzenegger didn't attempt a Southern drawl.
The Dallas Movie Premiere
Like any self-respecting fashion/lifestyle blogger, my first thought when I learned I was going to a movie premiere was "what will I wear?" If you've been a photographer in the press line for a premiere, you're probably rolling your eyes. This was my first time in the press line, and fortunately, I dressed in my uniform of jeans and a sparkly top. Comfort is key because we stood outside the theater for a couple of hours waiting for the stars to arrive. I was sandwiched between several kind photographers who took pity on this newbie, so I didn't get trampled too badly. Next time, I may slip on some super high heels after the stars arrive to help me tower over the other photogs.
Schwarzenegger and Knoxville arrived at the Amstar 14 theater to hundreds of screaming fans and press flanking the red carpet. Both stopped for interviews and to sign autographs.
Before the movie started, Schwarzenegger took to the mic to praise the large group of law enforcement personnel that were in attendance.
"My father was a police officer, so my whole life I always admired tremendously law enforcement," Schwarzenegger said. "What we do in the movies, we play action heroes, but we know the difference between movie action heroes and the real action heroes. You guys and women are the real action heroes."
Movie Details and Stats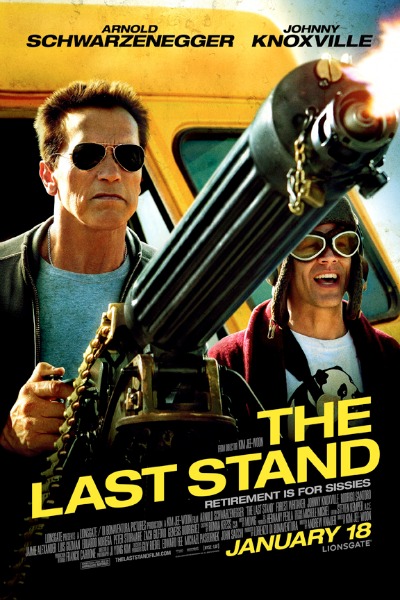 In Theaters: January 18, 2013
Rating: R for strong bloody violence and language
Runtime: 107 mins
Arnold Schwarzenegger stars in THE LAST STAND. Directed by KIM Jee-Woon and written by Andrew Knauer, THE LAST STAND also stars Forest Whitaker, Johnny Knoxville, Rodrigo Santoro, Jaimie Alexander, Luis Guzmán, Eduardo Noriega, Peter Stormare, Zach Gilford and Genesis Rodriguez. The film is produced by Lorenzo di Bonaventura [the TRANSFORMERS series, RED, GI JOE, SALT]. Lionsgate Presents, A Lionsgate/di Bonaventura Pictures Production.